Many fans got angry because of the content Activision decided to sell as Black Ops Pass. Everything could be OK (though many other companies changed their monetization and support games for free), but you can't buy multiplayer maps and blackout characters without Black Ops Pass itself. Players' anger turned into a massive scandal on Reddit:
https://www.reddit.com/r/Blackops4/comments/8qsyxy/ahhahahaha_activision_doesnt_care_anymore/
Some users even encourage people to boycott the game.
I think that the time of monetization with Season Passes has gone (or moves in this direction). EA cancelled Season Pass for Battlefield, for example. I know, as a future game developer, that gaming industry is a business and companies need to make money. But I'm sure they can do it with respect for the community, and, if some methods become useless, they need to find other ways to monetize their games. In this situation a thing that frustrates me more than the paid content is Treyarch's attitude to the players: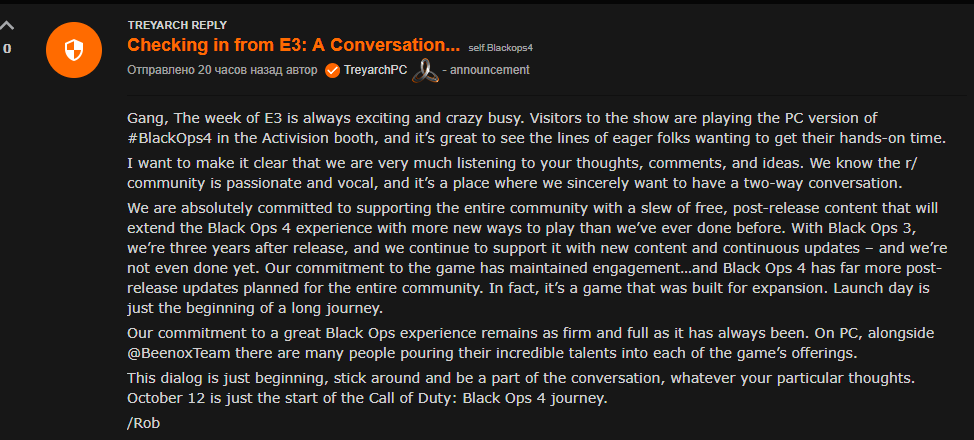 (
https://www.reddit.com/r/Blackops4/comments/8quet1/checking_in_from_e3_a_conversation/
)
I understand why users got even more angry after this statement - it really sounds like another PR-bullshit the company says just to sweep under the rug.
I hope that this scandal will be solved in the way both suitable for the community and for the company. I know it's hard to make unpopular decisions, especially about monetization ('cause everybody hates lootboxes and stuff). But they need to somehow pay attention to the players. In the end, the community pays them - both with money and reputation.