Games With Best Pixel Art Visuals
What comes up to your mind first when you think of pixel art games? I bet it's the classics like Super Mario Bros. and other old school platformers. But in fact pixel art isn't retro - it's the future. More and more games with pixel art visuals appear every year. So I collected the best pieces whose square worlds are really adorable.
Rating:

Genres:
FEZ was released by Polytron Corporation in 2012. It's an indie platformer mostly remarkable for its awesome level design and difficult but exciting puzzles. If you want some crazy discovery, this game is for you. The appearance of FEZ is stunning: this game is really an artwork which is both very beautiful and inventing, and it can capture the player for hours. Unfortunately, the sequel was cancelled - but we still have the original to play.
If Valhalla was made of little cubes it would definitely look like this. Pixel art visuals in EITR are combined with the Norse setting - dark woods, moody seas, ancient monsters - and the game makes all these elements sound fresh. EITR also gives the player the opportunity to feel like a warrior who needs to prove he is worthy to go to Valhalla - and it's an exciting experience too.
The Last Night is a cinematic adventure game upcoming later in 2018. It seems to be the pixel art Blade Runner 2049: the future world of flying machines, technology and neon. It's both dark and bright, a little bit messy but still very interesting to dive into. And the appearance of this games proves one more time - its fancy to be pixel today and there are so many unique ways to use such visuals.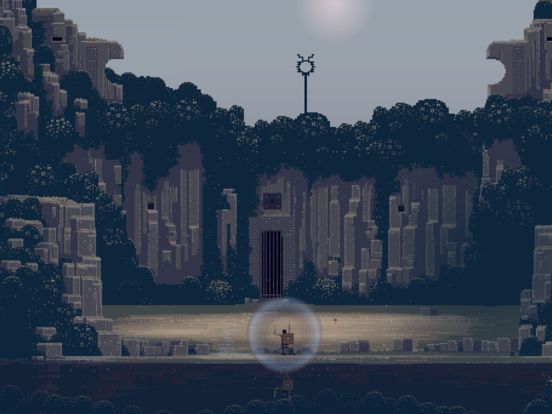 Rating:

Genres:
All pixel art games might seem to be similar in the noob's mind, but Superbrothers ruins this stereotype. It was released by Superbrothers and Capybara Games in 2011 for iOS and a year later ported for PC because of its popularity. Up to the moment more than 1,5 million copies are sold. It's not a surprise: the game has a good adventure, great music and unique visuals. Superbrothers' green and blue world made of pixels is nice to watch, detailed and smooth - and it really drags you into.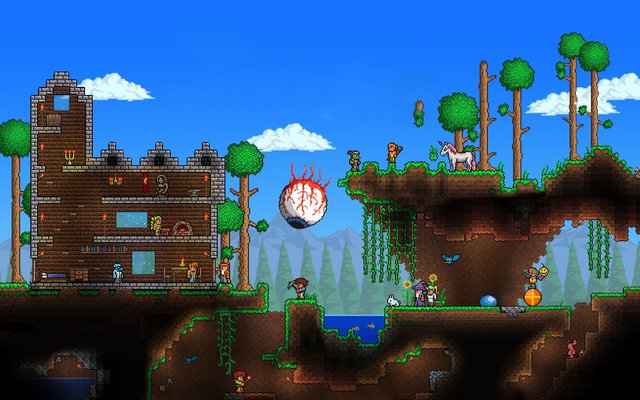 Rating:

Genres:
Terraria is a multiplatform indie game released by Re-Logic in 2011. Everybody can notice its similarity to Minecraft but Terraria expands its limits. The game has not only the building and crafting system but different worlds to explore and a lot of original weapons to kill the enemies. The level design is very impressive here: it's creative and varied, the graphics is detailed , the game itself is colorful. And it's a pleasure to play it.
Rating:

Genres:
Celeste was also released in the beginning of this year and was already highly praised by critics. The game combines a passionate plot about finding your true self with stunning visuals and gorgeous music while being a classic platformer. The main character, Madeline, is well-controled, the world around her, the Celeste Mountain, is blue, icy and alive and this makes the adventure exciting. The game can be rushed through but it's worthy to be explored for hours.
Rating:

Genres:
Chasm hasn't been released but looks promising already, and since we're talking about beautiful art, boy, is it gorgeous. You have a big world to discover, the monsters to kill, the NPC that give you quests, you need to drink potions and so on. Of course, the concept isn't unique but the combination of both the plot and the visuals is great. And it's not only my opinion: Chasm got almost $200,000 donated by the users on Kickstarter and currently is in development.
Rating:

Genres:
Released earlier this year, Into the Breach is really trending now. Look, it's a strategy with RPG elements about defending the Earth of the future with giant mechs. This concept sounds awesome and it looks amazing too. Pixel art visuals make the game much more interesting to watch. Though you have only a 8x8 field to play, each location is different and well-designed and makes you feel like you are travelling without the actual movement. 
Rating:

Genres:
Super Time Force Ultra was released in 2014 as the updated version of Super Time Force. Both games got the great response from the players and critics. The game is a light platform shooter as it meant to be: colorful, funny and with a bunch of references to the pop culture. Super Time Force provides wide detailed locations you like to see but have no time to explore as you have only 30 lives for the entire game. However, it's a good chance to get away from the office days and have fun.