One of the best games I have ever played, truly phenomenal. 
«Constantly dying and enjoy it»
2 of 3 users found this helpful
Other reviews
12
Very complete, with a lot of things to do to complete the story. It gave me 40 hours of fun.
Another great entry in a great franchise.
«Constantly dying and enjoy it»
«OST on repeat»
Bad, really bad
«Disappointment of the year»
«Waste of time»
Nobody found this helpful
an addicting masterpiece
«Constantly dying and enjoy it»
«Beaten more than once»
Dark Souls III took me like 3 years to beat. I played it over 3 different periods where I took long breaks in between. It was difficult. It was frustrating at times. But I kept coming back and when I beat it I felt relief and accomplishment. Dark Souls 3 is very well done and is not for everybody. But it is for me.

Final Score: A-
1 user found this helpful
I played DS3 after playing DS1 and Bloodborne, DS3 is an amazing game but it doesn't have a lot of it's own ideas it felt like a mashup between DS1 and BB but didn't it feel unique 
The game was too linear compared to other Fromsoftware game

Definitely recommended but felt like a rehash
A sequel to the Souls series, and, of course, offers an extraordinary gaming experience. Hard as it may seem, all of the hardest parts will become the best ones after you have passed it. The storytelling is ambiguous as usual, leaving most of the background blank. So it is also intriguing to explore the secrets of the Dark Souls world. Recommended, 10/10
«Time-tested»
«Constantly dying and enjoy it»
2 users found this helpful
Translated by
Microsoft from Deutsch
My first Part of the Souls Series and, in my Opinion, also the Best to start with. This Part feels best from the Controls and Feedback and offers a good Start with a more linear Level Design. The Dark Souls Games are known to be hard to be, but I would just refer to them as "Anders." Here you are not held up As you are used to from most Titles. Here you really have to Think about why you are Died and why this Opponent is so Strong and actually Unfair. Everything can be done if you know how and you learn how to learn from your Mistakes and try other Ways. I recommend playing It either completely alone/Blind or with a Friend of the one not Pulls Through and all Spoilers. After the Game is the first Time you have Gone through, it's a lot of fun to relive it with Friends or just make Nonsense:) Interacting with Online Players took getting used to, but luckily it's disabzable with offline mode. The Basic Principle of Invasions and Summons is actually Good, but as a Beginner It is no Fun to be killed by MinMaxed PvP Builds all the time you get beat with the NPCs. With fair Invaders, however, I had a lot of Fun:) Summons make bosses very easy, which is why I refrained from using them. For someone who sticks, however, these can be very helpful. Even after several Playthroughs, the World and Bosses have a Conscience WOW effect, especially if you appreciate this Art-style. Graphically, it is a very pretty and detailed world that tells a deep and interesting Story. Each Item tells a Piece of History in its Description. You obviously don't get to read through every Item, but there are great Videos on Youtube. It shows a Fantasy World that is slowly tilting towards the End and the People and Figures themselves do not know what is happening to You. One feels the Despair and Emptiness that envelops this World. The Music adds wonderful to the Scenery and there are some very good Pieces. This Game gave me the same Effect as Skyrim at the time, which I had already missed a lot. You have a seemingly infinitely big World ahead of you and you feel lost at first but when you get more and more behind it how it works, you notice that by defeating Opponents you are desperate at before is suddenly left. You notice how you develop yourself and get stronger and stronger. Things I didn't like * light Spoilers *: I think it's a shame the Armor makes only a very small Difference and the Armor spoon has been completely disabled. It makes Sense from a balancing point of view, but it still makes sense. More Opponents in the New Game + and maybe new Positions so it gets more variety. I'd like to see even more DLCs/Content, but it's just because I can't get enough of Dark Souls III:) Clear recommendation for People who would like more than just Couch Entertainment. Or just want to try something different.
Read more...
s M F O s
Steam, Apr 19, 2019
For many people DS3 is an epitome of the quote Hidetaka Miyazaki mentioned: «it's about 'accomplishment by overcoming tremendous odds». And everyone who completed the game knows how really tremendous this odds are. 

But I also like another phrase he twitted once: «A well designed world could tell it's story in silence». 
«Blew my mind»
«Constantly dying and enjoy it»
2 users found this helpful
The last part of one of the best franchises of this last years. 
The combat is unsurpassable, extremely stimulant and with no doubt the best part of the game, and thus, the PvP and Co-op as well. Each build holds enormous possiblities that will take you through its own special path.
There is nothing to complain about neither the art nor the ambience, however:
The plot is not as charismatic and more forgettable than the first Dark Souls'.
The technical design of the areas and enemies is at times questionable. Lots of them are very unique, some others are just... detestable, too tedious, or simply nothing actually good or interesting.
The DLC's are decent, but improvable.
Don't let this fool you though; Dark Souls III is overall an incredible game to spend lots of hours into, especially with other kindled ones alongside you.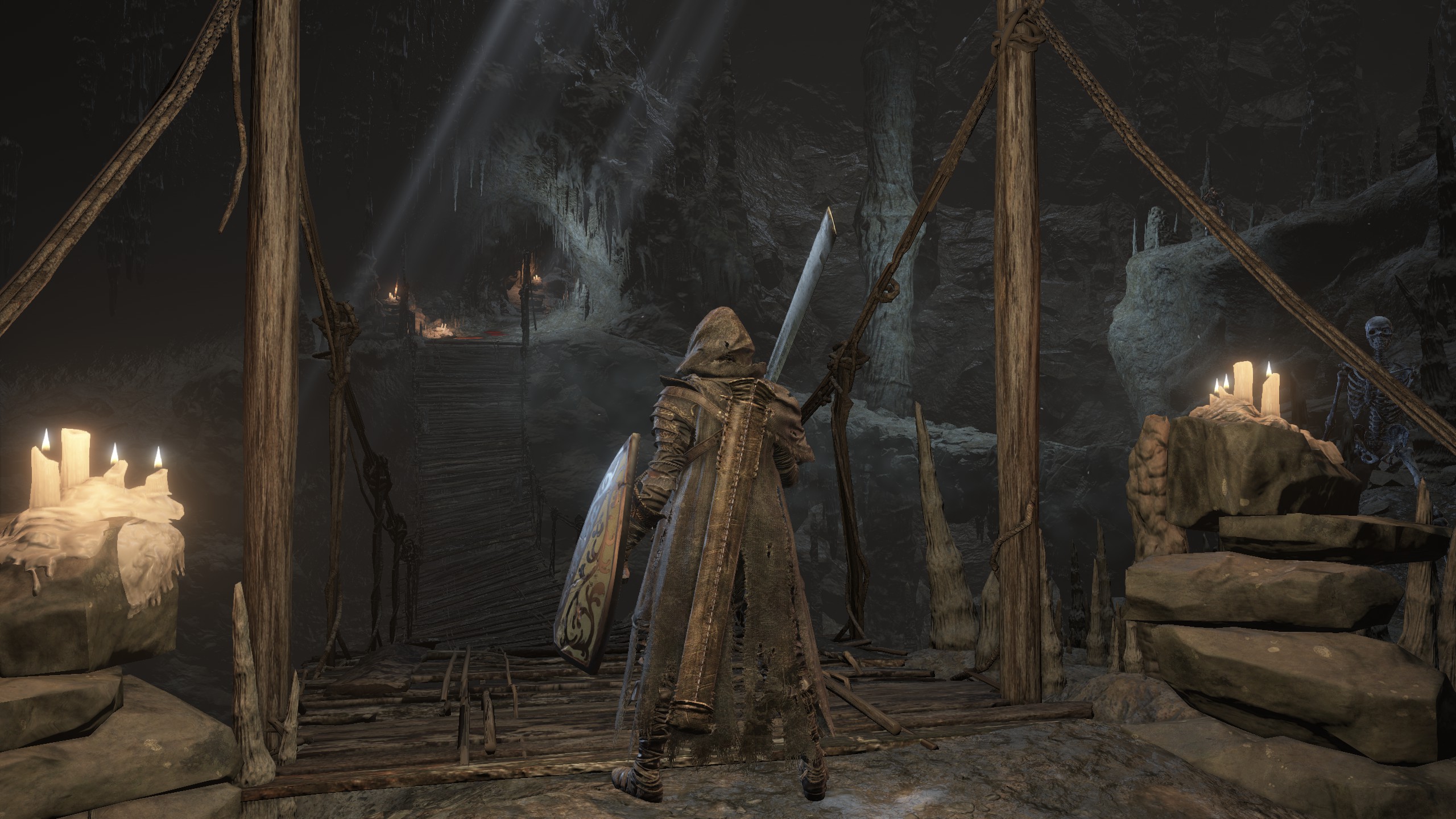 «Constantly dying and enjoy it»
«Better with friends»
2 of 3 users found this helpful
Let's take 180 degree turn and abandon all the improvements the series had in years, what could go wrong?
«Disappointment of the year»
«I could make it better»
3 of 6 users found this helpful