Everything about this game is unrestrainedly stylish. Every character in it is stylish, the things that happen are stylish, the way they happen is stylish and the visuals are stylish as fuck. It's got perfect transitions, bold - wallpaper worthy - colours, seamlessly animated camera and character animation, and the most delayed title drop that has ever dropped. There's very limited interactivity, striding the line between endless runner (Temple Run) and rhythm game, and can in-fact be played entirely with one button and a thumbstick. Despite that limitation it packs what I would consider every possible variant of that control scheme into its hour-and-change runtime. There are first person sections, schmups, vehicle sections on just about every vehicle you could expect and none of these gameplay shifts feel wonky or off.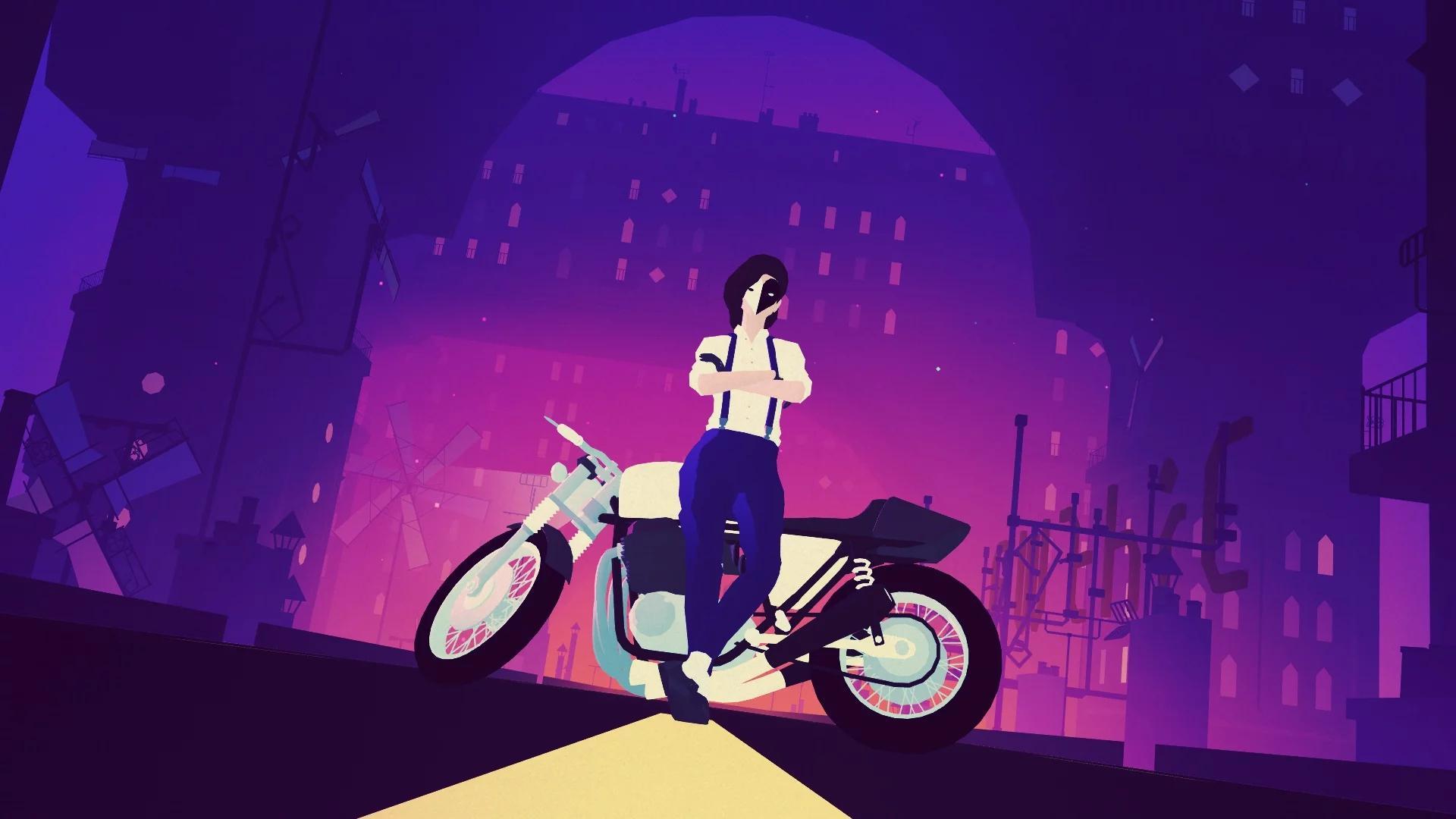 Sayonara is honestly the perfect length for this kind of game, plenty of time to allow for a buildup and as many creative ideas as they can cram in but not dragging on beyond the point where it has to change its core mechanics to keep fresh, with plenty of optional collectibles to extend that time if you fancy it.
The music reminds me a lot of PinOut (another game/album hybrid concept) in a good way and that's what the game will live and die on for you, if you don't enjoy the music (which I very much did) there won't be much here for you. My biggest complaint is that the way each segment hard cuts to the menu after the level is over makes the shorter songs feel like they're cut off just before getting to the good bit rather than working as build-up to the next level. It definitely seems like it's intended to be played all the way through uninterrupted and, after beating it the first time, you unlock an "Album Mode" which gives you the ability to do so and massively improves the transition between tracks.
I watched an LP of this before playing it and wish I hadn't because I think I would've appreciated it even more if I went in fresh, but then again without being sold by that LP I might've missed it altogether.
«Sit back and relax»
«OST on repeat»