The first game of CoD's rebound.  Decent story and oldschool(ish) multiplayer.
8/10 - Great WW II game!
«Just one more turn»
«Can't stop playing»
Worst purchase I think I've ever done. Bought it full price when it came out. I played like an hour of the campaign and thought it sucked. I played the online for maybe a week and also thought it sucked. The feel to this game was awful. It was WW2 but the guns were still fully set up killing machines. The gunplay was too fast for what it should have been. It looked stupid. I thought the maps design was weak. I didn't like the upgrade system that much. I quickly gave up on this one. Not worth your time.

Final Score: B
Nobody found this helpful
gonna go down as one of the "oh yeah, that happened!" entries in the series
the multiplayer is fine, it was fresh to go back to boots on the ground action when it came out but it overstayed its welcome very quickly
at this point if all you're here for is multiplayer i don't think CoD is really worth it if you're on pc, there are just so many more alternatives
but CoD does have a specific flare to it that other games don't capture, which is why i personally go back to it
but this one's just okay and

as always
activision's ruined balancing with monetization (at least from what i hear, i've not played it in a while lmao)

the campaign is basic as fuck, and i don't fuck with zombies all that much so i can't give a good opinion on that
my main bag is multiplayer and that was just okay, there aren't enough maps and
just get World at War
The first hour of the game seemed incredibly boring, straightforward and basic, but as it entered into its 2nd and especially 3rd hour, it kept getting more and more interesting. The basic WW2 story and characters + the familiar COD gameplay can be a huge turn off in the beginning, but if you are patient, both the story and the characters, as well as the gameplay get much better. The main difference in the gameplay is, of course, the return of traditional health packs instead of regenerating health, and if there was one perfect COD for this return, it was surely this one. I found myself playing the game much more tactically and thinking more before going forward because of this. The added abilities of your teammates are also a very welcome addition, which further reinforces a more tactical approach. The game is also way more gruesome than the previous titles in that you can see someone's head getting blow off in front of you, which makes the game feel more real. Level designs are also mostly interesting, and overall the campaign is a really meaty good old FPS, that does feel different enough from other entries to garner a playthrough. The story, despite being fairly simple and the characters overly familiar, still is successfull in its own humble way, and does make you feel for the characters at certain moments (and there is a cool twist at the end that I didn;t see coming tbh.) Overall, nothing memorable, but it's not bad either.
Read more...
Translated by
Microsoft from Deutsch
Pros: Set of The Game Negativ:-Bad Balance of Weapon-Bad Connection to Servert-Connection Discuits in Game-Extreme Pre-or Night Parts Due to Hitmarker delays etc.) No special Maps and too few Maps [...] I could list a lot more Points, but just let you be told: Don't Buy it! I really gave the Game several Chances and genuinely wished I hadn't bought it or could give it back.
Translated by
Microsoft from French
Good after finishing the campaign in 5h of game, and having tested the zombie and the multiplayer I will given my opinion on this game. For me the countryside is superb, discretion, cars, squads the envierment ECT is awesome but the only bemole is that have the finish in 5h the campaign it is too short to my taste compared to the other COD... pity, I'm disappointed. So the multiplayer I do not necessarily adhere, cancer map, cancer pump, camping cancer... that's a COD. THE ZOMBIE IS PERFECT!! I recommend the game.
Translated by
Microsoft from French
I've tested all call of duty except advanced warfare, and it's for on the one with the worst feeling at the multiplayer level. Incredibly ugly for Sona GE, not fluid, problem of permanent serverus. I am a great Dan of the license but could not recommend this ♥. ♥ ♥ ♥ ♥ ♥ ♥ infame. I'll even avoid talking about what they dared to call "campaign", 7 inconsistent and repetitive episodes, useless characters and about as charismatic as a dirty sponge not to mention the bar of life. Without a doubt the last call of duty I buy, pity. The zombie is well screwed.
Gotiay
Steam, Apr 18, 2019
Translated by
Microsoft from Deutsch
All so * mimimimimimi * and I so * yeeeeeaaaaaah * It's a veritable Cheekiness that WW II is so panned in the Reviews. Ok... Perhaps the Strength of The arms is not yet adequately aligned. But: Weapons must be labeled and equipped. This was always the case in the call of duty games and should not shake older Fans of the Series. The Maps are rich in detail and if you are allowed to talk about it in the Context of war at all, really designed with Love ... Feeling right, Sound mega and in the right places, Graphics top. Ok... Clearly it's somewhat unrealistic that you can choose female Avatars ... And ok, then also Avatars with a migrant background. But for me as a female Gamer just quite wonderful. At Headquarters, you feel a bit like you're in Stormwind. But nevertheless, it must once again be clearly mentioned in a positive way that the Completion of Tasks is Fun and more beautiful than just making a Tick in any Menu ... And btw: If you don't hit anything, it's either because you didn't do a Graphic Driver Update or just played TOO long CS. Beautiful First-person shooter! A Must for old MW Fans!
d00hn!e+
Steam, Apr 18, 2019
New CoD goes back to the very roots of the series. And it's not a good thing! The new game doesn't take all the best from its ancestors, instead it picks a lifeless single player with a dull story and an old casual multiplayer that evokes nothing but a yawn. Oh, also the loot box system.
The critics praised it. You know why? Coz they all reviewed it at an event held by Activision, journalists being supervised for their impressions. Such journalism.
So at this point CoD feels like something people buy out of habit. not interest. I bought it and was utterly disappointed. The thing is I have lots of friends who fell in love with CoD when they were teenagers but continue to buy every single game now like this is some sort of a drug to them. Well, now it looks like it was also a drug for me, but I'm not buying any CoD in the future from this day.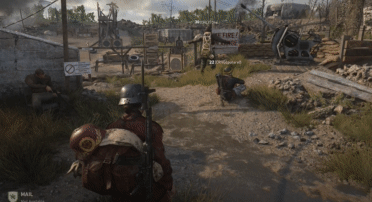 For those, who are not familiar with the series — there's no reason to buy it, it's one of the worst games in the series. If you want to play a CoD, play one of the earlier games. If you are familiar with it — don't repeat my mistake. don't buy it.

6 users found this helpful