Average Playtime: 3 hours
Momodora: Reverie Under the Moonlight
About
Momodora: Reverie Under The Moonlight takes the player on a journey through a cursed land on the brink of eradication. Evil spreads, the dead rise, and corruption reigns. Hope is but a faded memory for all but one: a priestess named Kaho from the village of Lun. If only Kaho could somehow gain audience with the Queen, Her Majesty could surely be convinced to lend her power to help save the land and its inhabitants from certain doom―but time is short, and each coming night falls darker than the last... Reverie Under The Moonlight is the fourth installment in the Momodora series of side-scrolling action platformers, featuring melee combos, dodge mechanics, and a plethora of items and spells to unleash upon your enemies. Play casually to fully take in and enjoy the rich setting and engaging, mysterious story, or crank up the difficulty to run your reflexes through a truly brutal gauntlet. Beautifully animated graphics Exciting action gameplay: pull off impressive combos, dodge attacks, and skewer enemies with arrows Intense boss battles with challenging patterns and epic scale Difficulty settings appropriate for all types of players―from story and setting lovers to hardcore action enthusiasts A breadth of items that can be combined to facilitate new strategies An amazingly diverse world to explore, filled with secrets and treasures Eccentric allies and foes with compelling personalities Mysterious lore and rich backstory woven into events, dialogue, and item descriptions For this fourth installment in the Momodora series―which actually serves a prequel to the previous games―the primary focus during development was on improvements to the gameplay and art. The combat gameplay has truly evolved since the days of Momo III, and the character sprites are now bigger and better animated. We also made an effort to include more tiny details here and there, expand on the world lore, and create more exciting boss battles. I believe this is the best Momodora game in the series, and definitely the most polished title so far. Most of us at Playism grew up playing video games during the early days of the NES, and throughout the years, action-platformers have been some of the staples in our respective game libraries. Long before "Metroidvania" was a thing, we fell in love with the original Castlevania series, as well as with other Hall of Famers such as the Metroid, Contra, and Ninja Gaiden games. About halfway through the lifecycle of the first-generation PlayStation, sprite-based game development took an unfortunate nosedive, and the sorts of games we loved most and grew up with just weren't being made as frequently or, frankly, with as much love and care as they once were. Indie game development really helped to reinvigorate both the sprite-based action-platformer genre and the magic of actual sprite animation. rdein's games combine what we've always loved about tight-action 2D gaming with splendid influences from more modern games like Dark Souls. The dedication to your actions necessitated by animation locks; the insane intensity driving the boss fights and how epic it is that this quaint little heroine can tackle these heroic endeavors; the attention to detail in the environments, designs, and animations... all of this stuff is simply stunning and rdein pulls it off to beautiful effect. Then there's also the story itself, which is also a masterpiece in game storytelling: a strange, mysterious world that you inhabit with countless hopeless souls whom you are trying to save. There is painstaking detail in every item, every snippet of dialogue. You find yourself constantly readjusting how you feel about these people. You're trying to save them, but do they even want to be saved? Or should you be more worried about that awkwardly sinister tone in their voices...? Momodora: RUTM shouldn't exactly be categorized as "Metroidvania" or "Souls-like", but there certainly are elements of both contained within. It's a game of its own, and it's one of the best entries in the mind-bogglingly expansive genre of side-scrolling action-platformers. We at Playism all love the game, and we can state with absolute confidence that if you've bothered to read this far, then you certainly will, too.
Developer
ACTIVE GAMING MEDIA INC
,
Bombservice
Publisher
AGM PLAYISM
,
Playism
,
Active Gaming Media
,
DANGEN Entertainment
Tags
2D
,
Full controller support
,
Anime
,
Steam Achievements
,
Steam Cloud
,
Atmospheric
,
Classic
,
Controller
,
Cute
,
Dark Fantasy
,
Difficult
,
Exploration
,
Fantasy
,
Female Protagonist
,
Great Soundtrack
,
Metroidvania
,
Pixel Graphics
,
Side Scroller
,
Singleplayer
,
single-player
,
controller support
,
overlay
,
role-playing
,
steam-trading-cards
System requirements for

PC
Minimum:
OS: Windows 7

Processor: 1.2 Ghz or superior

Memory: 2 GB RAM

Graphics: 256 MB

Storage: 200 MB available space
Recommended:
OS: Windows 7

Processor: 2 Ghz

Memory: 2 GB RAM

Graphics: 1 GB (with Pixel Shader support)

Storage: 200 MB available space
Momodora: Reverie Under the Moonlight - All Bosses [No Damage]
Cry Plays: Momodora: Reverie Under the Moonlight [P1]
Momodora: Reverie Under the Moonlight by Halfcoordinated in 31:58 - SGDQ 2016 - Part 66
Jul 7, 2016
•
Games Done Q...
Cry Plays: Momodora: Reverie Under the Moonlight [P2]
Cry Plays: Momodora: Reverie Under the Moonlight [P3]
view all videos
51,051 items
I made a Momodora X Cavestory Crossover Fangame!
Momodora: RUtM Sprites and Sounds
Dec 28, 2017
•
DamiensReddit
Dec 29, 2017
•
Heart-lessDC
View all
Translated by
Microsoft from Deutsch
I can only recommend this Game! Control: Joy-jo Key-no. I would definitely recommend a Joypad, on the Keyboard you get insane if you're not used to that. Combat System: Varied. I say it never gets boring to fight. It's not a pointless "I just spame a Button all the Time" but Tactics are in demand. With many Opponents, you first have to find the Trick to defeat them. Soundtrack: Celestial ~ It really always fits the Situation, whether it'S Boss fighting, Area or Event. Story: Well mixed in. Of course, the Main Sense Of the Story lies in "Hero Goes to eradicate Evil," but little Characters are hidden everywhere, all carrying their little "Story." Artwork: Classy. It is not too exaggerated HD but also not superpixel, which gives the Game this certain retro feeling that I love * ~ * game Length: All right. When you play for the first time and have to explore everything, you have been hanging on to everything for a little longer, but once you know where what is, then you rusht through quickly. But as I said, the first time you play, the Length is very pleasant. You don't always need 100 + Hours for a good Game. Rather a little shorter but a better comb;) leave it!
Translated by
Microsoft from Deutsch
Momodora: Reverie Under The Moonlight is a beautiful, gritty Pixel Game with a beautiful Atmosphere. You are a Priest and your Task is to remove a Curse that afflicts your Village as well as the entire Kingdom. Even though it's such a simple Story, it just doesn't want to be any more. Storytelling is not writ large here. The first thing I realized about this Game was that it reminded me a Lot of a 2D Pixel Dark Souls. I put my Hand in the Fire and say something that is very Mainstream, but that really really is my first Thought. You jump, roll and punch your way through the Opponents until you finally get to a Boss and then it's on to the next Area. There is not much To say about the Music and The environment: For such a low-cost Game you have put up with a lot of work. Melancholy and oppressive, but beautifully stirring. Even if some Sound Effects hurt in my Ears, you can still fuse it. The Gameplay is simple and easy to master. You have a Bow, a Roll and a Gun. You don't need Any more than that either. The Control is very precise and responds to every Push of a Button as far as possible. There are many Bosses, where you can skip many, and has its own Difficulty. The Game won't be easy as you take a lot of Damage, even if there are different Levels of difficulty. For that, the Length of the Game is the only Blemish. In less than 5 Hours you saw everything, even badly hidden Secrets. In short, It's a pretty underrated game that absolutely needs more Attention as it gets everything right that you can do right for a Pixel Game. It's an almost must-have Title. Almost But only. The Length of the Game, however, draws this into The Negative. A DLC with new History would be the best thing that could happen to the Game.
Just... play this already, please.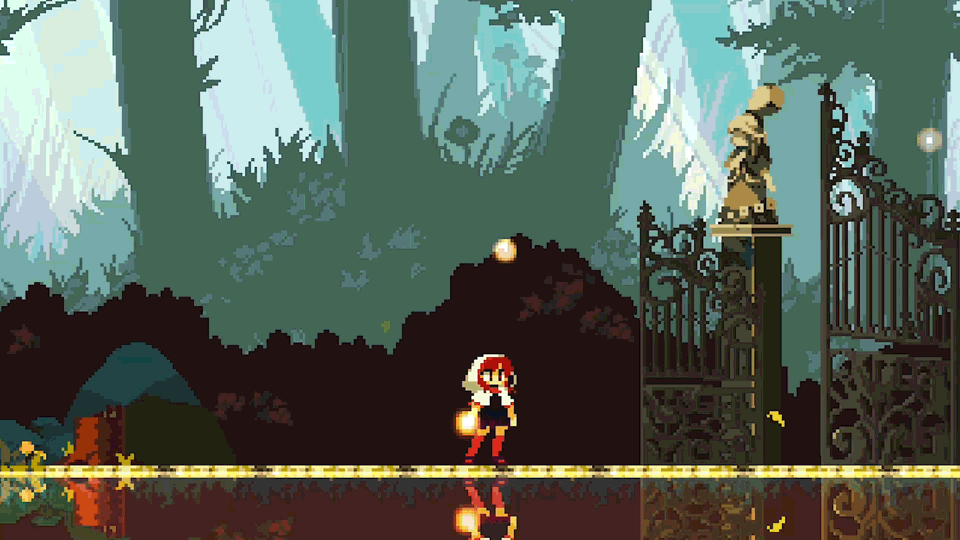 «Blew my mind»
«Constantly dying and enjoy it»
«Underrated»
read more