HEAVILY Policenauts inspired but, directed/written as it is by someone who isn't Kojima, obviously not quite comparing in the level of world-building and absurdly wacky plot. The world of Neo-SF is simultaneously more cartoony (with anthropomorthic animals and cutesy, colourful robots) and grounded in reality (with little being truly unfamiliar to real life outside of a few allegories), and feels much less dystopian than that of Policenauts. It also features lengthy conversations as its main gameplay component and, where most games of the genre use puzzles to break up the dialogue, any "puzzles" in ROM are light and so heavily railroaded they just provide more text to click through rather than requiring any thought. Where most games might say "It's locked" when examining a locked door and leave you to work out how to change that, in ROM Turing will stop you to tell you that NOT ONLY is it a locked door but WHY it's locked, the precise steps you need to go through to unlock it, and even its exact make and model number. Although it does make those interesting with slight mix-ups now and again, overall the game feels glacially slow and leans more towards a visual novel than its adventure games inspirations (although the wonky controller-based shooting sections are carried over perfectly, whether you want to call that a positive or negative).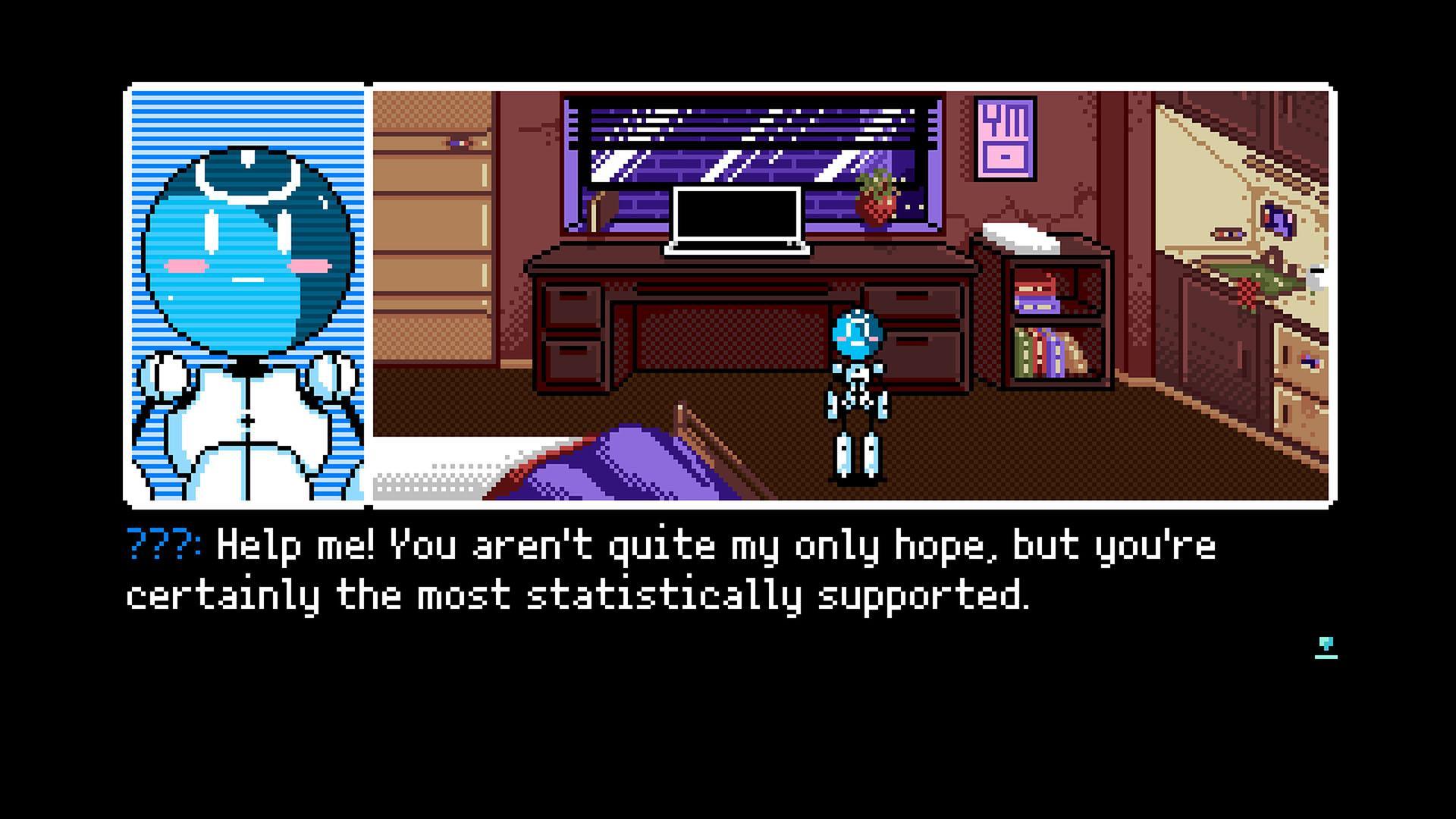 Surprisingly the game is 95% voice acted and quality is generally high for main characters, although bit characters seem like they're mostly cameos from non-voice actors and can be more of a mixed bag: A protester played by someone I do like is nonetheless jarring and pretty bad, but 2 Mello - the game's composer - puts in a great performance as a street rapper who needs your help to think up rhymes (one of the sections I mentioned earlier that varies up the conversations). As you might expect from 2 Mello's involvement, the soundtrack is excellent (and probably my standout feature of the whole game). I'm particularly partial to TOMCAT's theme as it sounds bouncy enough to be straight out of an Ace Attorney game.
All of the character's I've mentioned, bar one, are good fun and undoubtedly the main draw for ROM - talking to all the colourful characters is given just as much prominence as the main story - but, unfortunately, the one character I found occasionally frustrating is the one you spend the most time with - Turing. Your player-character is a voiceless blank slate, having no real character other than "journalist", and so Turing both serves as your window into the world through examining things, and does most of the talking to other characters. While mostly fine he's sometimes really grating with how confrontational, and at times downright stupid, he can be.
After just completing it, the story never went as big in scope as I was hoping/expecting but none-the-less had a very satisfying ending and epilogue chapter, going out on a high note.
2064 also has (at least in the Switch version) an absolutely brilliant Extras section. It's unlocked from the start and has grouped sections for concept art, music (beautiful UI in that one), backgrounds/wallpaper, UI/HUD, and character sheets. You can zoom in on all of them, most have at least a couple stages of progression from concept to final version, and are annotated with descriptions and why things were changed between versions which really helps give a sense of how the game came together.