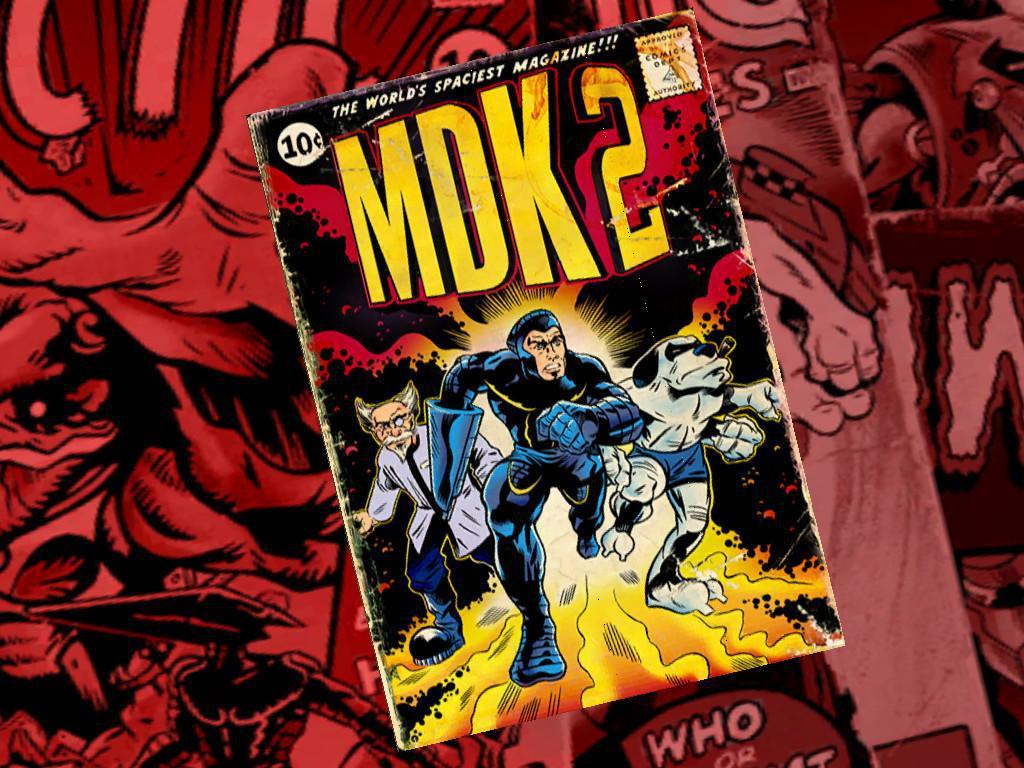 TL;DR
A great run-and-gun puzzle platformer with witty humor, though a trivial plot. The early Bioware game:)
A review through nostalgic glasses but I think I can do it justice.
MDK 2 is a run-and-gun shooter with platformer and puzzle elements. The story is very trivial with aliens coming down to Earth to mine it for resources and destroy it. The player's goal is to destroy aliens and their nefarious plots.
While the story is straightforward as it can possibly be, the gameplay is not so much so when you deep dive into it. You're still running and gunning but with the roster of 3 characters that have levels, puzzles and platformer sections designed especially for them, you get enough distinction to be entertained through the game.
When I was a wee kid that didn't understand any English, my favorite of 3 main characters was the dog, Max, as he was just mowing down aliens with a gun in each paw (he has 6 limbs, 4 of them can hold guns, yep). Kurt went closely second since he had an unlimited ammo in his machine gun but there were sniper elements in his gameplay, and oh boy I sucked at aiming. And the least favorite for me back in the day was the Doctor who only had an atomic toaster as a weapon, but he was able to combine trivial things into powerful things that would destroy everyone. Or also Hulk out! Well, now I understand how to play the Doc and it's heaps of fun.
And dividing the gameplay between 3 characters brings it more replayability (but you can only choose between them for the ending which affects it in a slight way).
The aforementioned level design is top-notch as its tailored to the character you're playing with: alien ships and stations for Kurt and Max, with eccentric space research station for Doc. You rarely stop to admire it but you always know where to go and what to do without feeling lost (some spaces can be quite huge for the game of that year).
Music gets you going with a bit of rock and beat with undertone alien sounds to keep you pumped up while the sound design makes you feel those heaps of bullets you're spending on enemies and their satisfying death screams.
Humor is peppered throughout the whole story making it manageable to consume. Because if the game took itself seriously, many would feel a bit of dissapointment. But since it can poke fun at itself and the ridiculous plot with its witty dialogue you forgive the pathos.
It's been redone with HD graphics for PC but you can still buy the original for Switch or on GOG. Both versions are pretty good: but there might be some compatibility issues. 
All in all, it's a solid game that can still hold its own even today when you just want to spend 3-4 hours having a not-so-mindless fun!