Click to rate
About
3 Unlikely Heroes, 1 Ultimate Goal
Kurt Hectic is back to save the universe. This time he is teamed with the genius Dr. Hawkins and the 6-legged gun-toting robotic dog, Max. Together they must out-sneak, out-blast and out-think their enemies as they attempt to reclaim earth from a vile alien menace.
Other games in the series
Website
http://interplay.com/games/mdk.php
System requirements for
Wii
System requirements for
PC
OS: Windows
Processor: Pentium 300Mhz
Memory: 64MB
Graphics: DirectX
DirectX®: 7
Hard Drive: 650MB
Sound: DirectSound
System requirements for
PlayStation 2
System requirements for
Dreamcast
Read more...
Edit the game info
Last Modified: Aug 29, 2022
I'm not smart enough for the Doctor levels
Throwback Thursdays: Max Doc and Kurt are back at it again!
I'm not smart enough for the Doctor levels
MDK 2 reviews and comments
Translated by
Microsoft from Deutsch
MDK 2 is one of my favorite Games. Why? The Humor, the fast fluid Gameplay and the varied Levels. These are only small Reasons why it is on my Top List. The Story is relatively simple-The Aliens attack the Earth and the Heroes of the Game try to prevent it. But the thing is according to how everything is staged. The Aliens are relatively witty throughout, but their Architecture is reminiscent of the chilling interiors of HR Giger. This Contrast is absolutely the reason why I celebrate the Game. It's this Dark Joke, as with Invader Zim. There is something for everyone from the gameplay. At the beginning you play the cynical Stealth Sniper Lord "Kurt." Although you also have a lot of rumbling with him, it is easy to prove here. You have to shoot and dodge at right moments. Number two is the Dog Max. He's simply a mechanical Watchdog with six legs. Of These, he uses four to carry Weapons. Mechanical-Watchdog-Four Gatlings at the same time. No further ask. The Doctor is the last one you gamble. With him, the Game turns from hard Shooter to Puzzle Game. You have to combine Objects and find secret Buttons. Even if this is the Most Actionless Part, he convinces with harshly Crass puzzles in which one thinks at the end: "My God what a Genius I am." So-Raving back or forth. An objective View also includes an objective review, so weaken the Game ... Hmmmm, So negative for Example would be to rate the Graphic that is hard to keep out. I can't recommend a Game where I rave about the Graphics and then since you have been disappointed hard. However, I really have to cut in here because trodz that the Graphics are old it is ingeniously implemented. Even today, I still enjoy what the Game world looks like. It's all gigantic. The Means when you walk through a ventilation shaft, it is sometimes several hundred meters long, which is not a Problem because the Running Speed is relatively fast. There are also huge Halls in the Doctor's Spaceship. These Halls are filled with Atomic Greützeoceanen And one wonders eifnach: Why does he have such things on his Ship and how does it all fit in again ... :D It's jeffore-awesome. The Textures convey, as I have already said, a sinister Dystopian Style. Just nice. So overall, the Graphics are very round as they are. The only thing that would be to complain about is that the Passages with the Doctor sometimes slow down the Action. However, the Levels of the docs will become even more action-packed later and I think that it was also so intended by the Creators. See Voltage Curve. Conclusion: The Game is worth the most for each time. Especially the Sci-Fi fans and especially the retro 3D fans. You can really celebrate it properly easy. Thanks for reading.
Read more...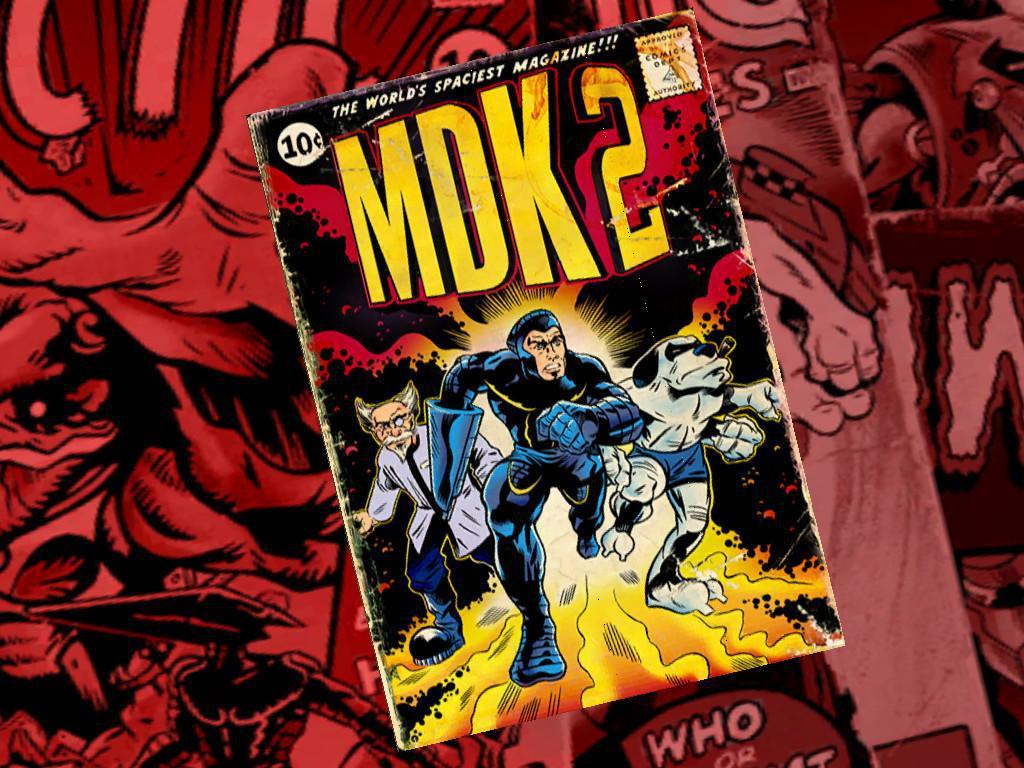 TL;DR
A great run-and-gun puzzle platformer with witty humor, though a trivial plot. The early Bioware game:)
A review through nostalgic glasses but I think I can do it justice.
MDK 2 is a run-and-gun shooter with platformer and puzzle elements. The story is very trivial with aliens coming down to Earth to mine it for resources and destroy it. The player's goal is to destroy aliens and their nefarious plots.
While the story is straightforward as it can possibly be, the gameplay is not so much so when you deep dive into it. You're still running and gunning but with the roster of 3 characters that have levels, puzzles and platformer sections designed especially for them, you get enough distinction to be entertained through the game.
When I was a wee kid that didn't understand any English, my favorite of 3 main characters was the dog, Max, as he was just mowing down aliens with a gun in each paw (he has 6 limbs, 4 of them can hold guns, yep). Kurt went closely second since he had an unlimited ammo in his machine gun but there were sniper elements in his gameplay, and oh boy I sucked at aiming. And the least favorite for me back in the day was the Doctor who only had an atomic toaster as a weapon, but he was able to combine trivial things into powerful things that would destroy everyone. Or also Hulk out! Well, now I understand how to play the Doc and it's heaps of fun.
And dividing the gameplay between 3 characters brings it more replayability (but you can only choose between them for the ending which affects it in a slight way).
The aforementioned level design is top-notch as its tailored to the character you're playing with: alien ships and stations for Kurt and Max, with eccentric space research station for Doc. You rarely stop to admire it but you always know where to go and what to do without feeling lost (some spaces can be quite huge for the game of that year).
Music gets you going with a bit of rock and beat with undertone alien sounds to keep you pumped up while the sound design makes you feel those heaps of bullets you're spending on enemies and their satisfying death screams.
Humor is peppered throughout the whole story making it manageable to consume. Because if the game took itself seriously, many would feel a bit of dissapointment. But since it can poke fun at itself and the ridiculous plot with its witty dialogue you forgive the pathos.
It's been redone with HD graphics for PC but you can still buy the original for Switch or on GOG. Both versions are pretty good: but there might be some compatibility issues. 
All in all, it's a solid game that can still hold its own even today when you just want to spend 3-4 hours having a not-so-mindless fun!
Read more...
2 users found this helpful
read more