While not Supergiants' best and the small growth of gameplay being the weakest part, no words can make up to the beauty and depth of the art, music, story and characters.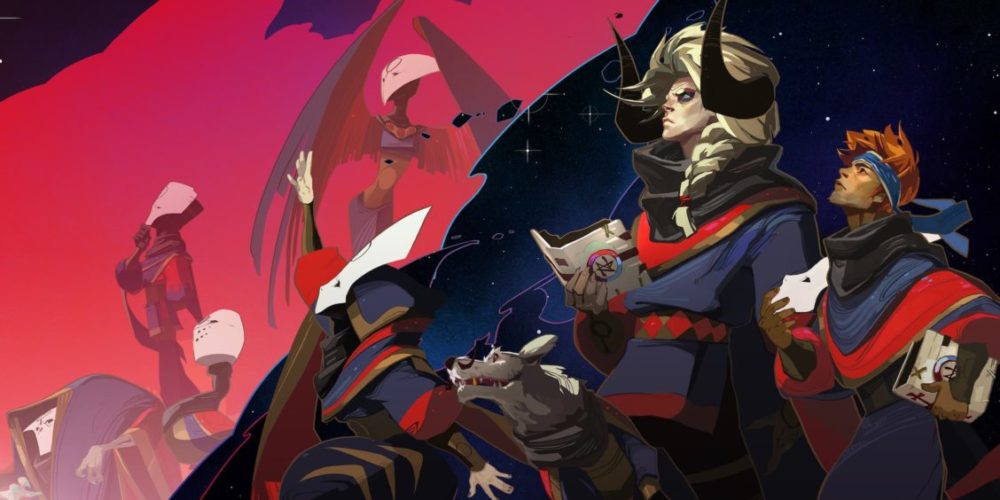 «Blew my mind»
«Underrated»
«OST on repeat»
2 users found this helpful
Other reviews
7
jodariel i need to tell you something. IM FUCKIN BALLING!!!!!!!!!!!!!!!!!!!!!!!!!!!!!!!!!!!!!!!
Man, I don't even know. I only played this because I'm a huge fan of their other two games and looking forward to Hades. But this was really a miss. Everything about it felt like Supergiant sniffing their own farts. Much longer more jukebox-y sound track, overly explanatory lore dumps, complicated gameplay systems that don't really do much for the plot, drawn-out opening and end sequences, huge amount of unnecessary "hard mode" additions, way too much backtracking over and empty world. I can't really imagine playing this as anything other than a Supergiant superfan and even then, why bother when their other games stand on their own so much more? At least this really solidified Supergiant as one of the best studios doing the "apocalypse as metaphor for cycles of pain" that IMO outshines From Software by a mile, but they've proven they can do it better in Bastion, Transistor, and next hopefully Hades.
1 of 2 users found this helpful
Translated by
Microsoft from Deutsch
Very atmospheric Play, little Movement and a lot to read but an emotional Story if you can get into it. In addition, a Replay Value, because you can make several Decisions. The Game Mechanics are interesting, but a seemingly simple Ballgame System mixed with some cool features, which makes it quite challenging and exciting. The AI is relatively good and surprises one time or another (Whereas every now and then you could just wait your Opponents to just run into your Shelling). The Music is very apt and classic, which fits well with the Story and the Theme. With a Game time of about 30 Hours for a Game on Normal, I am completely satisfied with the Game (however, I bought it in The Steam Sale for 10 Euros). It seemed simple but fun and went surprisingly longer than expected. The End is fitting and satisfying and in the End you feel like playing it through again because the Dialogues change according to your Decisions.
Feyriel
Steam, Apr 18, 2019
Translated by
Microsoft from Deutsch
The Game makes it really not easy to evaluate it. Just for the fact that you can manage to be an RPG/Sportvisuel novel Game in one, you would like to recommend the Game to others. Add to that well-functioning Gameplay, a very beautiful Story with well-staged Characters, great Music and a terrific Artwork. Now one may wonder why you can't just recommend Pyre unconditionally ... Well, unfortunately, the Game completely Falters after about 6 Hours. You keep fighting repetitively against the same Opponents, the Story is already told and only turns in Circles and the Characters don't develop anymore and tell you the Same thing over and over again. Had an End to this had simply been put to an end, Pyre would have been a terrific Game. Unfortunately, it seems as if the Developers have tried convulsively to implement everything they have come up with. Nevertheless, the Game leaves a lasting Impression on me and whoever has the necessary Seat meat towards the End will have fun.
./ak[a]ry.u¯\_(ツ)_/¯
Steam, Apr 18, 2019
Translated by
Microsoft from Deutsch
Pyre an Adventure through a colorful dangerous Environment on the Way to fulfill the various Goals and Dreams of its Friends. The Game happens very much on the Story conveyed by many Text Boxes and Book Entries. For my Part, I thought it was beautiful how even the Opponents and Supporting Characters are given a Story that changes with every Decision you make. The Rites are also an important creative Means to bring in some Variety. Quickly and tactically, Opponents must be turned off and a Ball must be carried into the Opponent's Flames. A Team of 3 Characters with special Abilities must be controlled. These Skills can be enhanced by Level Ascents and Trinkets. In doing so, one should also accept losing, as it forms part of the Story and you are not really punished. Denm Difficulty is appropriate and can be changed with the Titanium stars in front of the individual Rites. And you don't have to talk about the Music. She's just fantastic and nothing else was expected of the Master Darren Basket
bleed-blue
Steam, Apr 18, 2019
When I've bought this game I thought that I will return it in an hour because the description and videos in steam didn't inspire me. Also, I'm not a fan of Bastion and Transistor. They didn't touch ma soul at all. And I'm not going to lie — this game is already my favourite game of the year.

Graphics is amazing and every character looks like the main artist put all his soul in them. Storyline is well done and dialogues are interesting to read even in the beginning when you didn't get the game setting at all. And the best part is RITES. You will not fight some asses with big sword like in other 'Supergiant' games. You will play some team sport which reminds me of basketball and handball but with a magic in there. Moreover, you can have only 3 people in team but there are more than 3 characters and every single one of them have they own powers (don't fuck with Ti'zo, alright?). So every game you can pick others. And the soundtrack makes this game even better than it is. It's the first game soundtrack which I can listen on every day base without playing the game.

Enjoy your game and remember "When the stars align, the rites shall come to bear."
«Blew my mind»
«OST on repeat»
3 users found this helpful