Average Playtime: 3 hours
Absolver
About
In the ruins of the fallen Adal Empire, you awaken with a mysterious mask on your face, and faint recollections of an esoteric ceremony. Freeing you from hunger, thirst, and even death, the mask is the creation of the Guides, the rulers of these lands, who have placed you here to determine whether you are worthy of becoming part of the elite corps of Absolvers. As you wander these forsaken lands, encountering other Prospects like you, you will learn new combat styles, acquire weapons, gear and armor, and build a team of warriors with whom to fight side by side in Arenas of combat. Please visit the official Absolver FAQ on the Steam discussion board for more information: http://steamcommunity.com/app/473690/discussions/0/2579854400733819593/ Fluid Real-Time Combat: Position yourself in one of four tactical stances during real-time battles and execute devastating attacks, dodges, and parries. Movement becomes your weapon as you engage in solo duels or intense multiplayer melee battles. Customizable Style and Flow: Players will define their character's playstyle by picking a combat style, a weapon of choice, and arranging attacks in their Combat Deck to design their unique and personal attack flow. Online Multiplayer Action and Narrative: Prospects and Absolvers will seamlessly encounter others in the world, generating unique stories that emerge through player interaction and choices. These moments are filled with tension as intentions to battle or befriend are never clear: trust is always a leap of faith. Encounters will have lasting consequences and transform into meaningful relationships as you make friends or enemies and find mentors or disciples. PvP and PvE: Explore a rich and dynamic world including dedicated PvP battle arenas where champions will receive spoils of victory and progress in the ranks of the Absolvers, and PvE areas in which players cooperatively battle to retrieve rare loot and equipment from the ruins of Adal. ABSOLVER CONTENT UPDATES The development team at Sloclap is dedicated to improving and expanding Absolver based on community feedback once the game is live. In the coming weeks and months, Prospects can expect regular updates to the game to fix any issues that appear, as well as both minor and major content updates. These updates already include 3v3 Game Mode and a Spectator Mode soon after launch, but many more updates can be expected, from new combat styles and moves to new powers and equipment. Please follow updates here and on absolver.com or @Absolver on Twitter for the latest.
Developer
Devolver Digital
,
Sloclap
Website
http://www.absolvergame.com
System requirements for

PC
7 / 8 / 10 (64-bit only)
Processor: Intel Core i5-4670K (4*3400) or equivalent or AMD FX-8320 (8 * 3500) or equivalent
Memory: 8 GB RAM
Graphics: GeForce GTX 770 (4096 MB) or Radeon R9 380 (2048 MB) or better
DirectX: Version 9.0
Storage: 11 GB available space
Additional Notes: Gamepad recommended.
THE LEGEND OF Mc WHOOPIN | Absolver
Sep 1, 2017
•
jacksepticeye
Absolver - Before You Buy
Aug 24, 2017
•
Iron Pineapple
Absolver HIGH LEVEL PVP - THIS GUY IS INSANE! (Like a finals of a tournament)
ABSOLVER - UM NOVO CONCEITO DE JOGO DE LUTA / COMBATE?
View all videos
153,336 items
We Who Are About to Die Salute You!
Absolver (First look) \o/ - The Evil Within starts TOMORROW at 8am EDT! \o/ - !store - !4year
View all streams
101 items
Translated by
Microsoft from Deutsch
Absolver is an extremely well accomplished martial art game, with a really nice open world. You can develop your very own Style in a combat deck, which can include up to 16 different moves and in addition you can create another Deck for weapons again with 16 moves. In Combat, you can vary them extremely well, so that you not only always have the same course of attack. There are over 90 Attacks and again over 60 Sword Attacks to learn! You can customize your Character with a wide variety of Garments that play a Role in Defense and Speed. The PvE Fights are partly challenging, but also a little annoying when you attack around the 5 People, because there is not really a good crowd control, in addition to the confusing Camera perspective, if you are driven into the Corner yourself. In The PvP, however, the true Strength of Absolver lies when trying to see through the Opponent's Tactics and Combat Deck in order to be able to counter them in a targeted way. Unfortunately, Absolver also has sometimes large, unmissable quirks, such as the Long-term Motivation that is really missing from this Game: No ranked game content, you can raise your Combat Trial Level, but that's already, no matter how good the PvP is, it will be Bored, if you have too strong, sometimes too weak in Alternation again and again. A Ranking would add some Prestige As well. -Trade, it is not possible to exchange collected Items, so what is almost a Must for any major Multiplayer game Co-op/multiplayer, you can play through the Story of Absolver in the Co-op, but this is a relatively short Time, because after 5-6 Hours this is already By, after that you almost go their separate ways, because you can only fight against each other, but you can't do it anymore. There is a lack of more story content or more PvP content in this Reference that you have 2v2 or 3v3. 3v3 Mode is supposed to have been announced since August, 3 Months have passed and the majority of the most of the people who started playing Absolver at the time have already stopped playing the Game. I don't want To blame the Developer Team for Laziness, but new Content came too slowly, then you'd rather have left the Game in an Early Access state For the time being and then be able to publish it when all the planned Game Models had really been ready. In spite of all this Game, due to this so well managed Combat system, you can always look in, because the Fighting is just Fun, but in the meantime you should always take a break and at a later Date Look in then. I'm very hoping for a Revival for this Game
Souls-like fighting game? I'll take that. Enjoyed pretty much every moment of it.
«Constantly dying and enjoy it»
4 users found this helpful
First, I'd like to point out some great features. There's a unique combat system, you can build up your own fighting style from the small elements. The game is not really that difficult so you can just smash around the buttons and block enemies' punches and that will probably get you through 90% fights (this obviously concerns only single player mode). But learning new moves (you have to block incoming blows to learn them, which is very inventive) and tinkering with your own combos is fun and rewarding though. This was the main thing that made me stay with the game for some time.
The single player mode sucks in all ways possible. I understand that this game was intended to put multiplayer in the first place, but that doesn't mean that the devs should have made the single player such a bummer. If you don't intend to satisfy gamers who dig single player capmaigns, you shouldn't release the single player in the game at all.
Speaking about gameplay, the most annoying thing is that there is no minimap, so you can easily end up going in circles. At the same time the world is so small and yet it manages to be boring and monotonous. Exploring is very unrewarding since there are no really unique locations, even objects are the same in all the parts of the world. You have a vase, some sort of a pile (which contains weapons/armor), and those are all the objects you can interact with.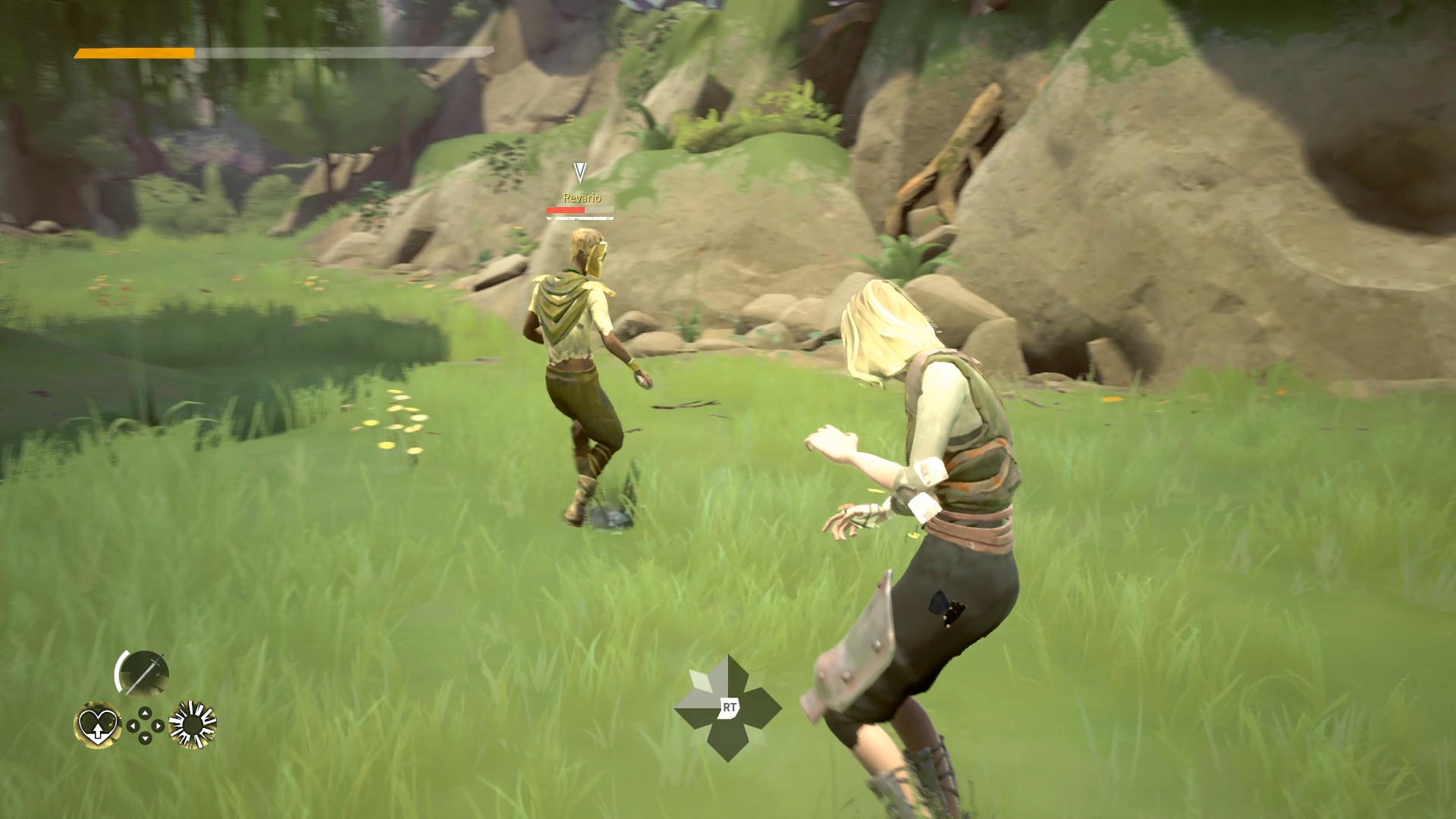 I'm not very exacting when it comes to the graphics, as I appreciate the overall visual side of games (artistic style, use of colors and shades, creativity, etc.) more than just a high-res bright picture. But Absolver runs like shit on my mid-range PC and doesn't look demanding at all (see the screenshot above). For reference, Witcher 3 runs buttery smooth on mid-settings, and for Absolver I was forced to use nearly the lowest settings. Perhaps there's a problem with the code and the lazy devs. To me, it was the most disturbing thing with this game, I was fighting more bugs and glitches than enemies.
Overall, I'd give this game 5/10, since it is a good example of a fighter that is playable on PCs with heyboard+mose (which I like very much) and the game brings something new to upgrading and combat in general. But the single player and the glitches made me quit the game halfway through. If you love a good hand-to-hand fight online, I would definitely recommend the game though.
«Buggy as hell»
«Disappointment of the year»
3 users found this helpful
read more